Navigate on Trust: On the Road
FENJA SEPERS
Design Researcher, Adventurer & Founder PERK Amsterdam
Living in the moment, following the road into the unknown, letting their intuition be their guide and using their hearts as a compass.

Our meeting in Amsterdam…
I had been intrigued by Fenja's instagram account 'Navigate on Trust'. It's one of those cases that I don't remember how I can came across it. The images were stunning and I checked out the accompanying blog and it really spoke to me. Their way of life centred on trying to create a free life with greater meaning, with more depth, intensity and focus. Love, growth, purpose, friendship and giving are key themes.
It was about, not making change too complicated but just beginning. She wrote of adventures in South America with El Verde, a lime-green '71 VW bus, with Navigate on Trust as the motto, and the plan was to have no plan.
I really wanted to hear more from Fenja. A while back I met her at the trendy Volkshotel in Amsterdam (when she back in town for a short while). While in the Netherlands she missed the sun, the ocean, the vast spaces and being barefoot in the sand. As a New Zealander I can really relate.
We chatted away with Bob Marley in the background. A conversation all about her philosophy, mindset and her new concept of home.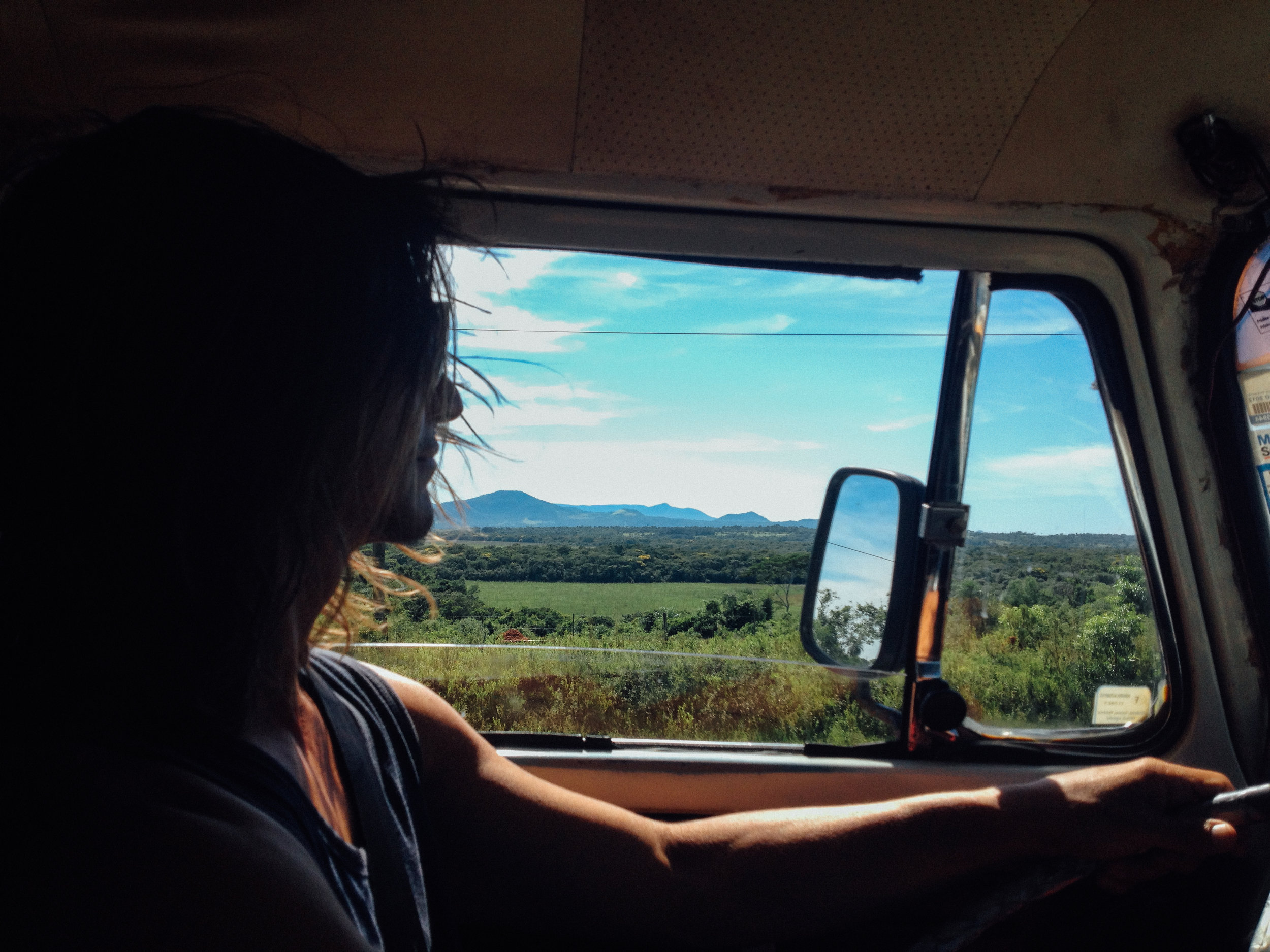 Where the journey began…
A little over four years ago, Fenja fell in love with Roberto on the shore of the blue Ecuadorian ocean. A year after they met, they decided to start a new journey together, a life experiment. She explains that it was not only love at first sight, but that a cross-pollination arose that changed their lives forever. It fortified their longing to lead a different life than what most modern societies demand.
"We had no real savings and no particular destination in mind – only the intention and desire to be together, connect and share with people, encounter new ideas, insights, and worldviews. It meant detaching from physical and material things as much as possible, and embracing uncertainty to the fullest – giving up our attachment to specific results and letting the universe handle the details."
They travelled 8,000 km's along the ecuadorian coast and the atlantic seaside of Uruguay. The slow-living philosophy was adopted as el verde's has a maximum speed of 80 km/h. The beautiful thing that Fenja explained to me, they learned that every problem turns out to be an opportunity—a gift in disguise. They met new people when their car broke down and when they had empty wallets they did many different things to earn money: graphic and interior design, work for a production company, surf training (Roberto), working in a small shop and so forth. When they lost their route they discovered amazing new places. They explored the art of living and worked on creating true connections and with a growing knowledge of their inner selves they felt more at ease. The legacy their journey changed course as Roberto, Fenja's biggest love passed away in december of last year, after battling an illness for a number of months. He was not only her greatest teacher, but a teacher to many. Someone that never gave unrequested advice, a wise man beyond his years, someone that touched many people. Fenja met him when he was sleeping by the ocean in a tent with just his surfboard. A man that truly embraced life.
Fenja explains to me, that his passing will be the ultimate challenge of the philosophy they lived together. The idea of letting go and having trust in the things to come. She will continue to navigate on trust, and try to understand, investigate, and live it in an even more profound way, whilst dedicating all the good things to him.